Meet the Halton Honda Team Part 3
Staff
Aug 8th, 2016
Here's another entry in our quest to get to know the Halton Honda Staff.  Today we meet two long timers and one "kinda-newbie" on the sales team:  Brad Joseph (general sales manager) Mike Robichaud (sales manager), David Krstulic new to the sales team but far from being new to Honda.
When did you start and what brought you here?
Mike: I started in 1999, but before that I had a long career in the food industry at Eatons, and we all know what happened there.  I was out and and looking for a new career when my neighbour (who worked at HH) mentioned that they were looking to hire a salesperson.  The rest as they say; is history.
David:  I started here in 2014 and what brought me here was Paul Mike (Parts Manager since 1989).  I was living in Burlington but working at another Honda dealership.  I've actually worked at a few Honda dealerships but I've always known about Halton Honda's reputation so it was an easy decision when Paul called me and offered me a job.  Were you always in the Parts Department?  Being in this industry for over 10 years, I've had a lot of positions from washing cars to oil changes to service advisor to parts and even shuttle driver!  The only department I hadn't tried was sales, so I felt I had to give it a chance.  Since my past experience was mostly dealing with customers AFTER they purchase, I think I have a greater appreciation for the long term relationship building that has to happen if a dealership hopes to KEEP a customer.
Brad: March 1993.  I was brought here to further my career.  I was selling cars in Toronto and have been with Honda over 40 years now.   And now you're the voice of Halton Honda in our radio ads.  I've been doing that for a while now until Hollywood needs me as Morgan Freeman's replacement (LOL).
What's the best thing about working for Halton Honda?
David:  The people.  It's always the people.  I know everyone says that, but it's true.  It's that fact that makes me happy to work here.  The fact that the owners only own this one dealership instead of 10 means the focus is here.
Mike:  Well when I started here I didn't know much about the car business so this is the only dealership I've ever worked at.  Listening to others in the industry over the years, I'm always struck with how lucky I was to land at this particular dealership.  Why?   Well there's much more of a team atmosphere, single ownership and the owners really care about the happiness of their customers and employees.
Brad: The ownership supports me…that and the people.
Do you enjoy working with each other?
Mike: Absolutely.  In your particular case; was the transition from sales rep to sales manager a smooth one?   Oh yeah, I was assistant sales manager for a few years which garnered me some knowledge that helped when I made the big switch as full sales manager.  That time helped me work up a different working relationship with the team who have been nothing but supportive.  The new position is a little more stressful but I still enjoy getting up in the morning to come to work.
David:  Yes the staff have been so helpful.  Hugely helpful!  There was a point where I had the entire sales team giving me hints and help when I was completing the Honda hybrid training which is particularly challenging.   I wouldn't get that level of help if everyone was out for themselves.  Everyone just seems more of a team player here.
Brad:  Yes, or I wouldn't work here.
Mike:  Now there's a man of few words! (LOL)
David:  Not usually!
 What's your favourite Honda of all time and favourite current Honda?
 Mike:  Does it have to be a Honda?  Can it be an Acura?  Because I'd have to say the NSX.  That's the nicest "Honda produced" vehicle I've ever driven.  Currently…I could say the new NSX but I haven't driven that yet.  No, I'd have to say the V6 Accord.  Love the engine, love the comfort,  love the feel on a twisty road…that's why I consistently pick that as my demo.
David:  Ooooo I like this question, but I'd have to agree with Mike. The NSX was a revolutionary car that changed that market with its all-aluminum body and the size of it's engine..it just set a new standard.  My current favourite Honda?  It's actually a toss-up between the HR-V and the Ridgeline.  I've always loved the Ridgeline; its a real truck that doesn't need all the ego baggage of having the biggest engine, or bed; it knows it will never have to tow a locomotive and it doesn't care.  It's a truck that fits the majority of people's real needs and is actually a joy to drive (unlike other  pickup trucks in the market that drive like tanks).  Then again, the HR-V really appeals to me.  I always factor fuel economy in when I'm choosing a vehicle, so the CVT transmission, the all wheel drive and just the size of it!…It's the perfect little vehicle!
Brad: CB750 Motorcycle.  Well THAT'S out of the box!  Yeah.  Did you own one?  Yes.  Do you still have one?  No. You love getting interviewed, don't you?  Sure.  (LOL)  What's your favourite current Honda?  It would be the Pilot hands down.  Lots of room, quiet, safe, and very comfortable.
Why should a customer buy from you and Halton Honda?
Dave:   Well I'm new to sales so the chances of me accidentally giving something away for free are higher! LOL!
Brad: Hey!!
Dave: No, being a newbie, I need to build my client base and I understand Halton Honda customers are notoriously loyal to not only the dealer but also their sales reps.  You have to respect and earn the customer's business.  Luckily I know the product as a customer, service advisor and parts person so I think I have an unique perspective.
Mike:  Well the team really works well together.  So if a customer comes in and their original sales rep is scheduled off, I'm confident that one of their co-workers would be happy to look after them on their reps behalf and make sure they're properly looked after.
Brad:  They should buy here because of the service they're going to get from both the sales and service.  They will be treated with respect.  But you're not the one actually selling the Honda's.  You're just in charge of those that do.  The people selling our cars are a reflection of the management, and I have every confidence in the team we've cultivated.
We all know a few examples, but what's the funniest or most memorable Halton Honda moment for you? 
Mike: One time I came back from vacation and my office was completely coated in tinfoil!  Right down to individually wrapped pens and even paperclips!  My drawers were booby-trapped with confetti and my stapler was actually in the middle of a jello mold!  Oh yeah, I remember that!  I bet you do Mrs. Murphy!   I learnt it has to be yellow jello or you can't see it as well!  Yeah—well done!  It took me the better part of the day to unwrap my world!
David:  We were joking around in service and had a running gag of moving stuff around on each others desks.  So I guess this was going on (you mean you were moving someone else's stuff?) Yeah, and I look up and there they were—-watching me moving their stuff while standing at my desk with a water bottle poised over my office chair.  I was busted!  For the rest of the day I was standing at a sitting parts desk helping customers.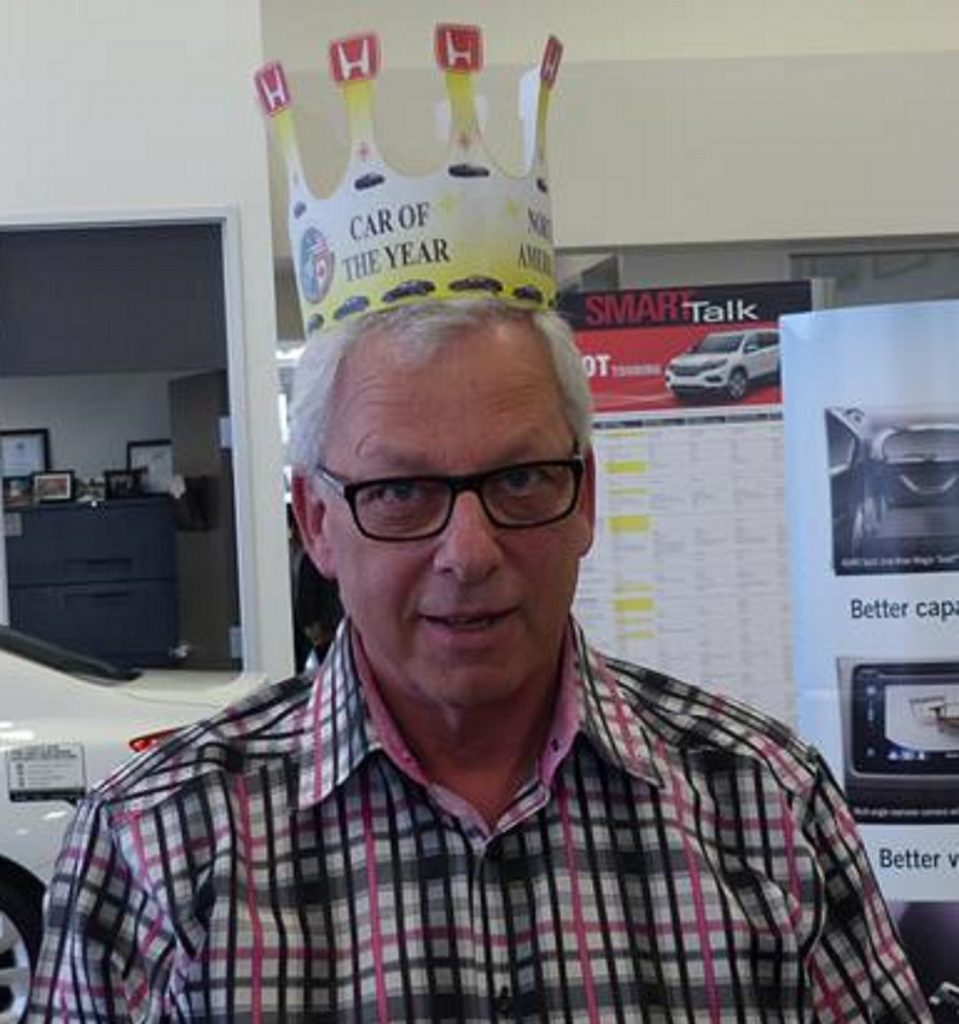 Brad: We had a sales rep here years ago by the name of Al Smith who loved practical jokes and was afraid of mice (he never should have told us).  We put a fake mouse in his Subway sandwich!  Now that was funny!  He went crazy thinking he bit into a mouse!  Another time we spray-painted grains of rice black and left it scattered around his office.  We had a lot of fun with that running gag!  We kinda made up for it when he retired, we hired a singing telegram, had the girl dressed up like a mouse and right there in the showroom she scared him one last time by jumping out of an incredibly small Rubbermaid container!  He loved it!
Well there you have it!  Two Managers and a quazy newbie who are all about making their customer's happy by listening to their needs  and knowing it's not all about the bottom line.  It's relationship building and being a part of the community for the long haul.
There truly is a Halton Honda advantage!