2018 Honda Accord 2.0T: Turbocharged Fun
June 29 2018,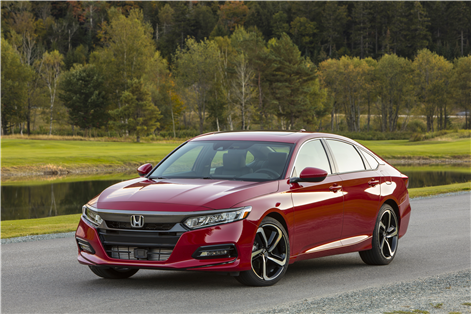 Honda understands what it means to have a winning formula when it comes to vehicle engineering. Over the years they've managed to design some serious contenders in the Civic and the CR-V, and the latest edition of the Accord sedan is no exception.
In order to keep their models relevant and oh-so popular, minor tweaks and improvements are made along the way, and one of those changes is the addition of a 2.0L turbocharged engine in the already popular 2018 Honda Accord.
The 2.0L turbocharged engine used in the Accord is the same found in the much more performance-driven Honda Civic Type R. For the Accord, engineers ensured the engine was detuned and relaxed a little. Instead of producing 306 ponies like it does in the Type R, the output in the Honda Accord has been reduced to a respectable (but still more than enough) 252 horsepower and 273 lb-ft of torque. The Honda Accord 2.0L turbo is paired to a 10-speed automatic transmission, which will help the 2018 Honda Accord hit 100km/hr from a standstill in just 5.5 seconds.
On the outside, the 2018 Honda Accord sports Honda's signature chrome wing grille up front, with classic lines from nose to tail. The Accord sports a gran coupe-like silhouette, which asserts the Honda Accord squarely in the modern car design lineup along with the best out there.
Inside the 2018 Honda Accord, you'll find room for five and there's also only one infotainment screen now (gone is the dual layout format). This makes the entire system much more streamlined and easier to use. There are also actual volume and tuning knobs instead of just touchscreen "buttons."
The 2018 Honda Accord 2.0T offers up a fun drive, fuel efficiency, comfort and entertainment. To find out more about the 2018 Honda Accord 2.0T, head down to your local Halton Honda to speak to one of our experts and don't forget to book a test drive.