2019 Honda Fit: Versatility at a friendly price
August 31 2018,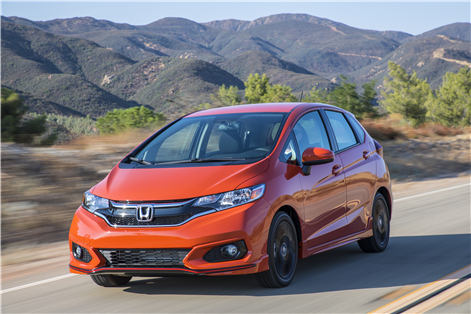 Available from $ 15,490, the Honda Fit is one of the most affordable cars on the market today. That said, it's standard features, the way it behaves on the road and its versatility are far from what you expect from a vehicle that is this affordable. In other words, the Fit has a lot to offer despite being so affordable.
Indeed, the Honda Fit is not only a great value, but it is fuel-efficient and easy to maintain as well. It is also very reliable. In short, with a Fit, you won't go over your budget and your peace of mind is assured. Come learn more about the new 2019 Honda Fit today!
A trunk worthy of an SUV in the 2019 Honda Fit
The trunk of the Honda Fit is not only very spacious for a subcompact car, it is very spacious for a car regardless of segment. You're entitled to 470 liters of cargo space behind the rear seats of the Fit and you can increase the available space up to 1,492 liters by lowering the rear seat.
That's not all. The Fit features the Magic Seat system which allows rear seats to be configured in a variety of different ways. In doing so, it is possible to carry several objects of different sizes, such as a bike or tall plants. In short, with the Magic Seat system in the Honda Fit, you'll never have to wonder if you have enough space.
Under the hood, the 2019 Honda Fit is powered by a 1.6-liter four-cylinder engine developing 130 horsepower and 114 lb-ft of torque in manual transmission models. Opt for a continuously variable automatic transmission and you still get 128 horsepower. That's quite enough for a subcompact car.
Better yet, gas mileage is as low as 7.0 liters per 100 kilometers in the city and 5.9 liters per 100 kilometers on the highway. With the 2019 Honda Fit, you do not have to sacrifice interior space for fuel-efficient driving.
To learn more about the new 2019 Honda Fit, contact us today at Halton Honda!