2019 Honda Insight Reviews
October 31 2018,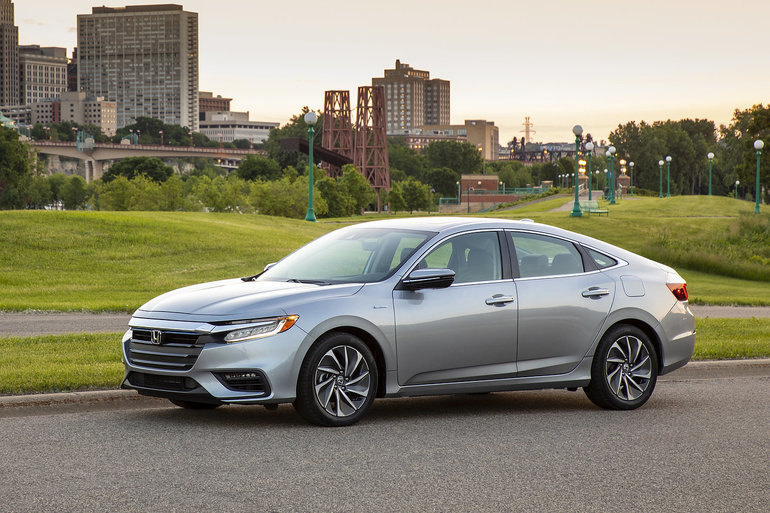 The Honda Insight is one of the latest hybrid vehicles to hit the market and it has a lot to offer, there's no doubt about that. Featuring a 1.5-liter four-cylinder engine paired with an electric engine, it sends 151 horsepower and 197 pound-feet of torque to the front wheels.
The end result is an average fuel economy rating of less than 5.0 liters per 100 kilometers in the city. If you want fuel economy without sacrificing the freedom of going anywhere whenever you want, check out the new 2019 Insight.
In the meantime, let's take a look at some of the recent reviews of the new Insight.
Wearing familiar Honda styling on a Civic-shaped body, the Insight boasts a hybridized powertrain to distinguish itself on the showroom floor. Its electric motor provides smooth and easy power at low speeds, but dig deep into the throttle and gasoline engine vibrations reach the cabin; some may call it a small price to pay for up to 55 mpg in city driving. An upscale interior features touchscreen infotainment, spacious accommodations front and rear, and a large trunk with plenty of cargo space – Car&Driver
---
Drivers won't mind being on display in the Insight, either. One of the Insight's major appeals is that it doesn't look like a science fair reject. In the past, buyers had to accept the fact they would spend their time on the road looking like a circus freak in order to eke out rockstar-grade fuel economy. Slats, slashes, and full-wheel hubcaps were the order of the day.

Rated at 4.9L/100km in mixed driving, our test car beat that number by 0.2L in a week's worth of predominantly in-town journeys. That's a solid 50 miles per gallon from a vehicle that doesn't look like a rolling tribute to the noble lungfish. Well done, Honda.
---
Official fuel consumption ratings for the Insight are 4.6/5.3 L/100 km city/highway, and when sticking to highways with a 100 km/h limit, I easily matched these numbers without consciously modifying my usual lead-footed driving style (mind you, the Insight does subtly encourage efficient driving habits). On Vancouver Island's inland highway (which has a 120 km/h limit and plentiful hills) my fuel consumption crept up to 5.7 L/100 km, but then on my final day of city driving I managed to clock in at a mere 3.2 L/100km. Yes, that's three-point-two litres per 100 km!
Come to Halton Honda to learn more about the 2019 Honda Insight!