2019 Honda Passport takes the world by storm in LA
November 30 2018,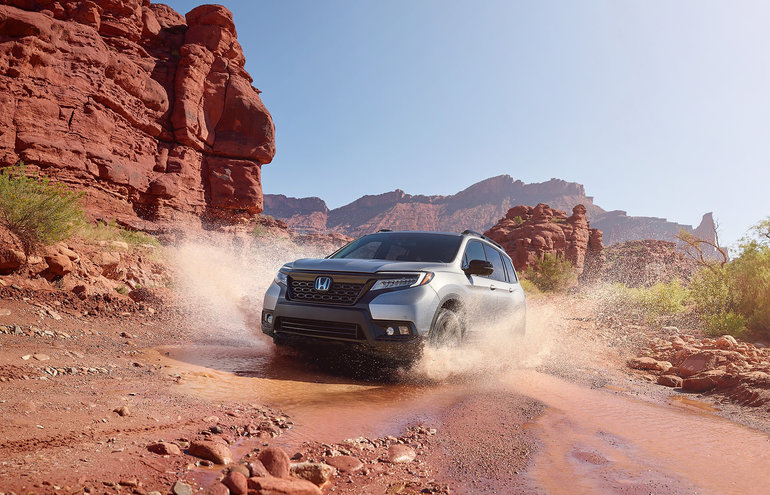 The Honda Passport was originally a rebadged Isuzu SUV that was sold in the United States about 15 years ago. Today, it's a brand-new Honda SUV that will slot between the Honda CR-V and Honda Pilot when it goes on sale later this year.
Unveiled at the Los Angeles Auto Show this week, the 2019 Honda Passport promises to be a different kind of Honda SUV. Sure it will be comfortable and packed with the latest technologies when it comes to connectivity and safety, but it will also feature some pretty impressive off-road capabilities.
"The all-new 2019 Honda Passport provides the on-road comfort and nimble handling buyers will appreciate on their daily commute with the robust off-road and all-weather capability that make for a great weekend adventure vehicle," said Jean Marc Leclerc, Senior Vice President of Sales and Marketing, Honda Canada Inc. "We saw an opportunity to deliver something that Honda is uniquely capable of making and the new Passport is in a great position to capture buyers looking for a more personal, powerful and capable Honda SUV."
Proven mechanics and stronger platform for the 2019 Honda Passport
The 2019 Honda Passport is built on a more robust chassis and features higher ground clearance than you average SUV in the five-seat, mid-size SUV segment. As such, it will be more capable off the beaten path than the majority of its rivals. It will also have a pretty impressive AWD system paired with a traction management system which provides driving modes for snow, mud, and sand.
Every 2019 Honda Passport will get 20-inch wheels, Honda Sensing driver assistance technologies, a unique and best-in-class underfloor added cargo area, and a standard heated steering wheel.
Power will be supplied by Honda's tried and true 3.5-liter V6 engine that delivers 280 horsepower and 262 pound-feet of torque. This is the same engine that powers the 2019 Honda Pilot.
To learn more about the 2019 Honda Passport which is scheduled to arrive in the spring, contact us today at Halton Honda.